Color & Shape in Gallery Ekbacken in Bonnarp
Who has not scribbled on the phone, scribbled textbooks full or scribbled aimlessly on the napkin at the coffee table? Cluttered on what is closest in the team of happy friends? The pen often goes away whether you want to or not. The result is mostly crumpled up in the trash after a smiling distracted look at the trash cans.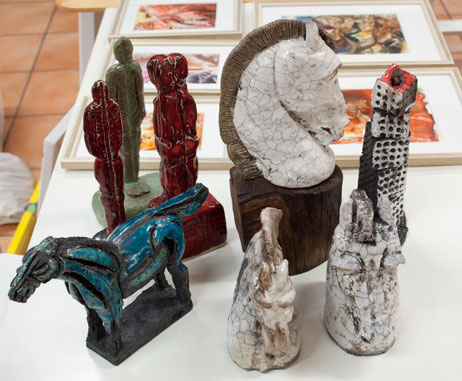 Susanne Jardeback Olesen – Nobel artist, course leader, lecturer and mentor lets her students / friends take advantage of the material as an incentive for continued creation. The energy is given an extra boost by the natural group dynamics and closeness that have emerged during their art meetings, where the individual creative desire can flow freely towards common goals.
The course participants may transfer the colors and shapes or motif on the piece of paper that has been distributed for several years, change or refine it on watercolor paper in black and brown. Some continue the process, producing the acrylic or oil paints and creating new ones with the "cloth" as a basis.
At Galleri Ekbacken, eleven brushstrokes from three courses are exhibited together with the artist, leader and mentor Susanne Jardeback. This is the second year in a row that the participants are exhibiting at Galleri Ekbacken in Bonnarp, now under the title "Art (igt) in color and form 2.
– Everyone knows everyone. They do not have to stick to a course day or group but can jump into the community at the right times.
Everyone learns from each other and grows. I'm with you, says successful Susanne who, in addition to appreciated exhibitions for decades, has also had the honor of creating a Nobel diploma for several years. Most recently, she has also had the great honorary task of portraying the Nobel Foundation's permanent secretary Staffan Normark, who has left his "permanent" post.
– I do not want to call myself a teacher without a mentor. It is a great joy to be able to lead forward, push on and see people develop. Everyone must be allowed to keep their own style, take advantage of their special personality and talent. Some want to paint realistically, others abstractly. What we want to achieve in color, shape and focus is highly individual. But mentors are important to develop technology and get answers to all their questions. For my own part, it was Georg Suttner at Gerlesborgsskolan who believed in me, encouraged me and made me dare to move on, says Susanne who is the exhibition commissioner.
– Someone has to keep in touch, sleep among the works to create a whole. In group exhibitions, everyone must take each other into account, learn to take into account – combine benefit with pleasure. Everyone has been involved in the design of opening cards and other marketing, says Susanne and shows us around among stacks of paintings, where each has been allowed to bring six works each. This also applies to the ceramic works that are waiting to be exhibited.
It is an irresistible color splendor that looks forward here and there, but also soft, gentle color schemes have taken place in works with influences from most art directions. Some seek the light, others the stylized expression or why not the naive…
It is creative joy in its true sense.
Among the exhibitors are both hobby painters who have applied, or are on G and managed to get on jury-judged exhibitions.
Gunnel Säflund Almered, one of the gallery's owners and also a watercolorist with a studio in the room next door, will also hang his watercolors among the exhibitors.
One of the exhibitors we drew attention to last year's group exhibition and who also participates here – Sarimaria Yrjänä has recently completed an exciting exhibition in Röstånga with paintings in strontium colors in a black painted room!
Another participant is Birgitta Auselius who worked with watercolor and i.a. adorned almanacs with his paintings and who now seeks to develop other techniques under Susanne's mentoring and leadership.
– This is the most fun I've done in my whole life, Birgitta exclaims.
A good and honest rating to the friends and Susanne… The exhibition at Galleri Ekbacken in Bonnarp has a vernissage on Saturday 15 October 12 – 17.
The same opening hours apply to the following exhibition days: 15, 16, 22 and 23 October.